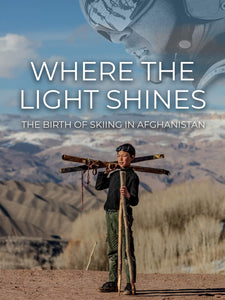 Film Screening: Where the Light Shines
WHERE THE LIGHT SHINES - An evening film screening and an insight into ISHKAR Explore - Ski Afghanistan
When two men compete to qualify in the Winter Olympics for the first time for Afghanistan, they realize that home is worth fighting for.

In their wake, they leave a passion for skiing and a hope for a brighter future. Where the Light Shines is the debut documentary from Pulitzer Prize-winning photographer Daniel Etter with stunning cinematography by Angello Faccini. It is produced by Academy Award nominees Marcel Mettelsiefen and Stephen Ellis along with Steven Sawalich from Articulus Entertainment.

Filmed over four years, Where the Light Shines paints an intimate portrait of life in Afghanistan and shows the difficulties of trying to create change in a country that for generations has only seen war.

ISHKAR EXPLORE

In February 2020, ISHKAR teamed up with the stars of the film - Afghanistan's two national ski champions - to lead a backcountry skiing trip in the heart of Afghanistan's spectacular Koh-e Baba mountain range. This was a rare opportunity to be part of a pioneering ski trip carving tracks where few have created them before.
What to read next?
See more of our writing here