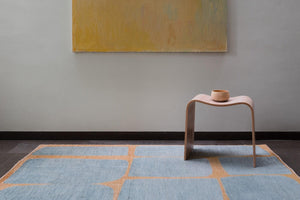 COURTS AND FIELDS: EXHIBITION AND Q&A WITH CHRITOPHER AND EDMUND LE BRUN
As part of the London Craft Week 2022 schedule, ISHKAR presented an exhibition and afternoon in conversation with British artist and former president of the Royal Academy of Art Sir Christopher Le Brun, and his son, ISHKAR Co-Founder Edmund Le Brun. This year, the father and son launched their first collaboration titled Courts and Fields. A collection of limited edition, hand-knotted carpets, designed by Christopher Le Brun and crafted by artisans in Afghanistan. 
The afternoon talk and Q&A with Christopher and Edmund, where they discussed the collaboration, working together as father and son, the exquisite craftsmanship, overcoming the challenges of working in Afghanistan in the face of the Taliban takeover, and the conceptual ideas behind Christopher's designs. The event provided the opportunity to view the pieces in person and a tour of the artist's studio.
What to read next?
See more of our writing here