OUR DESTINATION
Tajikistan is known for its rugged mountains, which make up 93% of the country's land area, as well as its rich culture and history.
This journey offers a 15 day exploration into the remote Bartang Valley, and Wakhan corridor where geographical isolation has allowed distinctive cultures, languages and traditions to continue.
The Bartang Valley is known for its stunning natural beauty, including dramatic peaks, turquoise rivers, and pristine glaciers.
The Wakhan Corridor is a high-altitude region that is home to several ethnic groups, including the Wakhi, who are known for their distinct culture and language. The corridor is also famous for its historic Silk Road trading routes and ancient Buddhist sites.

MEET THE MASTER
Matthieu Paley is one of the world's leading documentary photographers.
Matthieu knows Tajikistan intimately, having travelled and built connections there extensively while on assignment for publications over the years.
Matthieu speaks fluent Wakhi, enabling him to facilitate deeper connections between the travellers he hosts and Wakhi people in southern Tajikistan.
Matthieu has published numerous photographic books, including 'Pamir, Forgotten on the Roof of the World', and has won a collection of awards for his work including International Photographer of the Year Award.
Photographer : © JB Flanc (2021 ISHKAR traveller to Hunza, Pakistan)

GROUP TRAVEL
One of the best things about going on an ISHKAR trip is the group of people with whom you travel. Our trips attract informed, critically minded and adventurous people from all around the world.
Some of you will be drawn by the prospect of spending time in the remote wilderness, others will be drawn by the chance to learn about a fascinating and poorly understood part of the world.

We get to know everyone who applies to our trips over the phone. In this way we can curate groups guaranteed to enjoy sharing this extraordinary experience together. What unites everyone is the same curious spirit and desire to get far away from the typical tourist trails.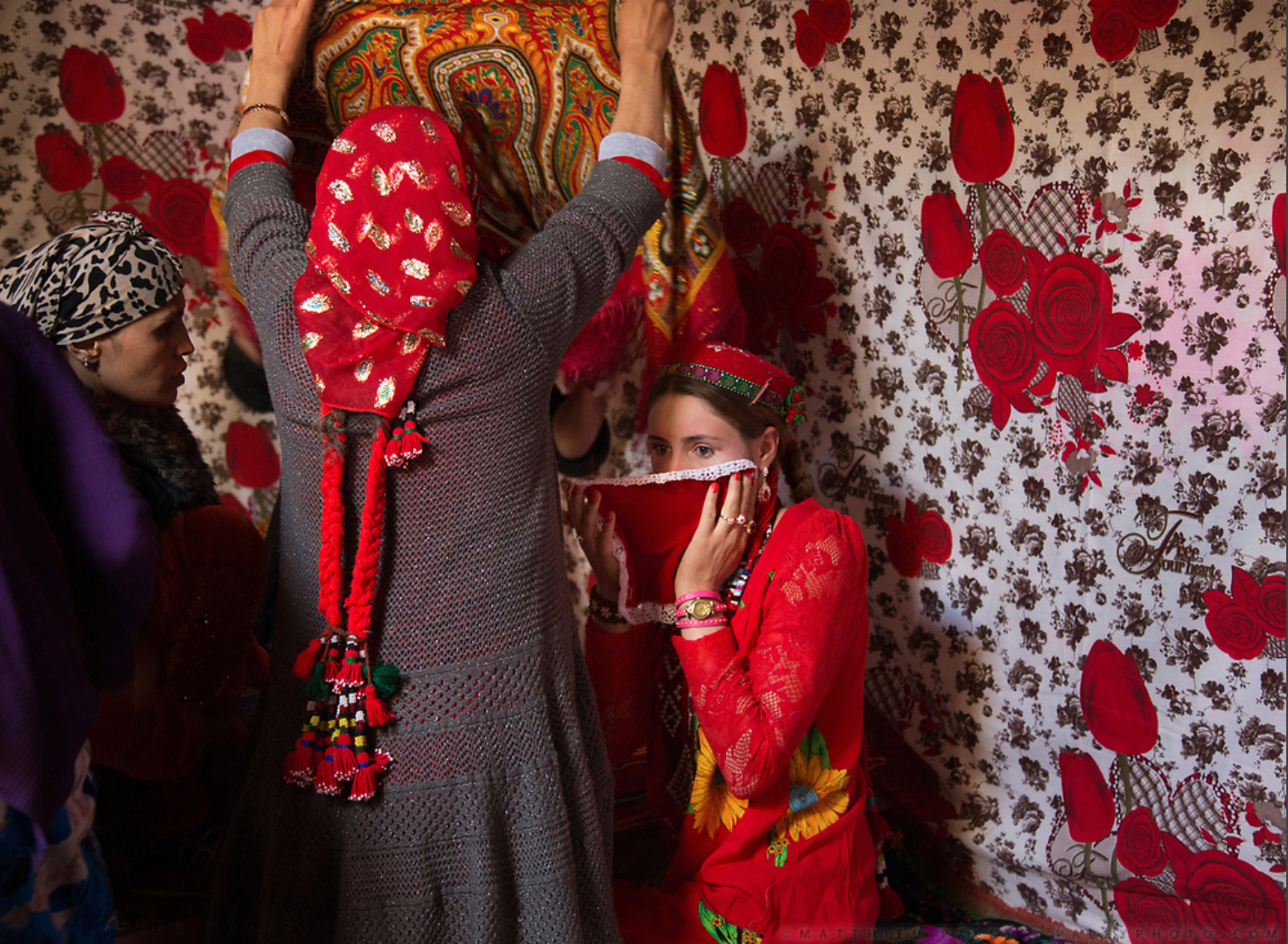 [Bartang Valley, Tajikistan]
Photographer : Matthieu Paley
THE PRICE
The price for this once in a lifetime, 15 day trip in October 2023 is $7,990.
The price includes all food, transport and accommodation whilst in country, along with photography workshops with Matthieu Paley. We will be assisted by guides who know the region inside out, providing access to areas rarely seen by tourists.

Email to apply now: explore@ishkar.com
Book a consultation with us: Click here.
Call us on +44(0)7984 102 639.
* Single supplement applied where requested.

** Where international payments are due, we request that you ensure the
full amount is received, after all bank charges have been levied as per
the price and currency stated on the invoice stated.

[Bartang Valley, Tajikistan]
Photographer : © Matthieu Paley
TRAVEL SECURITY
We are uncompromising when it comes to the safety and security of our travellers and will not hesitate to alter plans or cancel trips due to changing security dynamics. In general, Tajikistan is considered a safe country for travel and we are not expecting to need any special planning around security, but will continue to run risk assessments leading up to, as well as during the departure regardless.
Please see our Travel Security page for more information.
[Bartang Valley]

Photographer : © Matthieu Paley

ISHKAR Team Members
Your ISHKAR point of contact for the trip is Clare Doolan. If you have any queries about the trip:
Email: explore@ishkar.com
Book a consultation: Click here.

Clare Doolan ~ Head of Travel

For the past fifteen years, Clare has dedicated her personal and professional life to travel, looking for the backstory of places that get overlooked by guidebooks and google maps. Before joining ISHKAR, she spent a decade developing travel experiences for Botswana and Zimbabwe's high- end safari industry. Though Clare has travelled widely across every continent other than Antarctica, she's most fond of forays into Africa, the Middle East and Central Asia.
00:00
01 / NATIONAL GEOGRAPHIC
PHOTOGRAPHER
Learn first-hand from Matthieu Paley about how to use your camera to tell impactful stories about the people and places we will encounter along the way
02 / WALKING ON THE ROOF OF THE WORLD
Take a two day hike through Tajikistan's remote Bartang Valley, wild camping by Alpine Lakes and breaking the journey for casual conversation at villages along the way
03 / CULTURAL CROSS ROADS
Explore the villages of the remote Bartang Valley that have served as refuges from incursions from outside influences, from Bolsheviks to Afghan slave traders
04 / WAKHAN CORRIDOR
Explore the Tajik side of the Wakhan Corridor, and strike up a conversation with Wakhi herders over the border in Afghanistan - without having to raise your voice to be heard across countries
Is it safe in Tajikistan?
Tajikistan is generally a safe country for travelers.
To avoid any un-necessary risks, we liaise directly with organisations within the regions of our travel in order to remain up to date with any ongoing changes. We will be informing local authorities of our travel plans, using reputable agencies, and will remain as a group throughout.

Overall, we do not expect security to pose any particular risks during travel, and Tajikistan can generally be considered a safe and awe-inspiring travel destination.
Why travel with us?
We are proposing a different travel experience. With years of experience and a network of fantastic contacts, we want to show people the Tajikistan we know. This trip will be about meeting inspiring people, visiting extraordinary places and experiencing a true adventure in one of the world's most beautiful and yet least visited regions.
What is included in the cost?
The cost includes all accommodation, guiding, transport/transfers in Tajikistan, breakfast, lunch and dinner, entrance fees.
It does not include international flights into and out of Dushanbe, visa fees, insurance, excess luggage charges, cameras, alcohol, additional food and drinks, medical expenses, tipping and other personal expenses.

When do I need to book?
As early as possible, this trip is likely to book up fast. Due to high demand and to ensure the best group fit, we interview all those that apply to join the trip. Once selected, participants must pay the 20% non-refundable deposit to secure their place.
The final balance needs to be paid 60 days prior to departure - you can pay this via bank transfer directly to us. To express your interest, please email us at explore@ishkar.com
How easy is it to get a visa?
Very simple - we will provide you with required additional documentation to help with your application, along with advice for your country of residence.
Will we have a guide?
Throughout the trip, you will be accompanied by a guide from the region who speaks fluent English and knows the region well. In addition, there will be Matthieu Paley and an ISHKAR representative.
Do I need special travel insurance?
You will be expected to have full travel insurance that covers the region. If you are unsure if the policy covers you we can suggest the specialist insurance providers.
Will I be able to travel on my own?
We will stay as a group for the duration of the trip. You may choose to travel on your own before the start or after the finish of the trip, but whilst travelling with ISHKAR you are requested to remain with the group.
Do I need any vaccinations?
Please speak with your doctor to ensure you have the correct vaccinations for remote travel in Tajikistan.
What do I need to bring?
We will send you a more detailed handbook before leaving, including recommended reading and clothing.
Where will we be staying?
We will be staying in a mixture of guesthouses in addition to camping whilst hiking in the more remote corners of the Pamir Highway and Bartang valley. You have the option to share a room, or to pay the single supplement (details on the application form) if you wish to have your own room.
Can I come on my own?
Yes of course. Individuals and small groups are equally welcome. Personally, we also think this could be the perfect trip to experience with a friend, parent, child, or partner!
What is the food like?
All meals are included. Please consult us if you have very specific dietary requirements as we may need to plan in advance for this - particularly for areas where we may be overnighting at homestays.
When do I need to book my flights?
If you are thinking of applying, please email us at explore@ishkar.com and we will send you the flights you will need to book, in order to ensure that all travellers arrivals in to Dushanbe are coordinated.
Can I book even if I don't live in the UK?
Participation is open to residents and citizens of all countries - the diversity of the groups that travel with us is often one of the highlights of travel with ISHKAR.
Do I need to have a good camera for the trip?
No, feel free to bring any camera you wish, including just using the camera on your phone. Matthieu's expertise goes beyond technical tips on how to use your camera to storytelling through photography, composition, and sharing his perspective on the region more generally.
Do I have to be a keen photographer to take part in this trip?
No. There will be plenty of opportunities to explore the region without your camera, and Matthieu will be happy to provide tips only if you wish to have them.