OUR DESTINATION
The largest country in Sub-Saharan Africa, the Democratic Republic of Congo (D.R.C.) is home to the world's deepest river and the world's second largest rainforest. D.R.C. is as fabulously rich in biodiversity above ground as it is in minerals below.
On the country's eastern frontier with Rwanda and Uganda, lie the provinces of North and South Kivu. North and South Kivu are bordered to their east by the African Great Lakes of Lake Kivu and Lake Edward. It is a region of volcanoes, rich montane forests, and dramatic rivers. It is also the location of the Virunga National Park, a world heritage site which is one of only two remaining habitats for the endangered mountain gorilla.
Unfortunately, D.R.C.'s natural riches have been overshadowed by nearly 20 years of continuous instability. For this reason, despite D.R.C.'s many attractions, very few tourists visit the country each year.
MEET THE MASTER
Michael Christopher Brown is an internationally renowned photographer. A former associate of Magnum photos, Michael has been a regular contributor to, and subject of, publications ranging from National Geographic, to the New York Times and Time Magazine.

He has gained critical acclaim for his work in Libya, where he documented the fall of Muammar Gaddafi. He also lived in D.R.C. on and off between 2012-2014, with regular visits since. In addition to his published works from within the country, he is in the process of producing three books which show D.R.C. from three different perspectives: a photo journal from a Congolese female commando, killed in action in early 2014; a series of work by a Congolese studio/ portrait photographer; a collection of his own work from between 2012-2016. Michael believes that the country has a beauty and a fascination that is rarely understood by the outside world.
Unlike many photographers, Michael often prefers the use of a camera phone for its unobtrusive nature and ability to capture realities not always available to those hidden behind large lenses.
GROUP TRAVEL
One of the best things about going on an ISHKAR trip is the group of people with whom you travel. Our trips attract informed, critically minded and adventurous people from all around the world.
Some of you will be drawn by the prospect of spending time in the remote wilderness, others will be drawn by the chance to learn about a fascinating and poorly understood part of the world.
We get to know everyone who applies to our trips over the phone. In this way we can curate groups guaranteed to enjoy sharing this extraordinary experience together. What unites everyone is the same curious spirit and desire to get far away from the typical tourist trails.
(c) JB Flanc - ISHKAR traveller 2022
The Price
While costs for 2023 are yet to be confirmed, the price for this one in a lifetime trip in 2022 was USD 7990. There may be slight increases to account for changes in cost since.
The price will include all food, transport and accommodation whilst in country, along with all field photography workshops with Michael Christopher Brown. We will be assisted by guides who know the region inside out, providing access to areas rarely seen by tourists.
Additional costs:
14 day tourist visa ~ USD 115
Optional add on:
Eastern lowland gorillas visit ~ approximately USD 400 (please enquire for further information on this option)
Email to apply now: explore@ishkar.com
Book a consultation with us: Click here.
Call us on: +44 7984 102 639

* Where international payments are due, we request that you ensure the full amount is received, after all bank charges have been levied as per the price and currency stated on the invoice stated.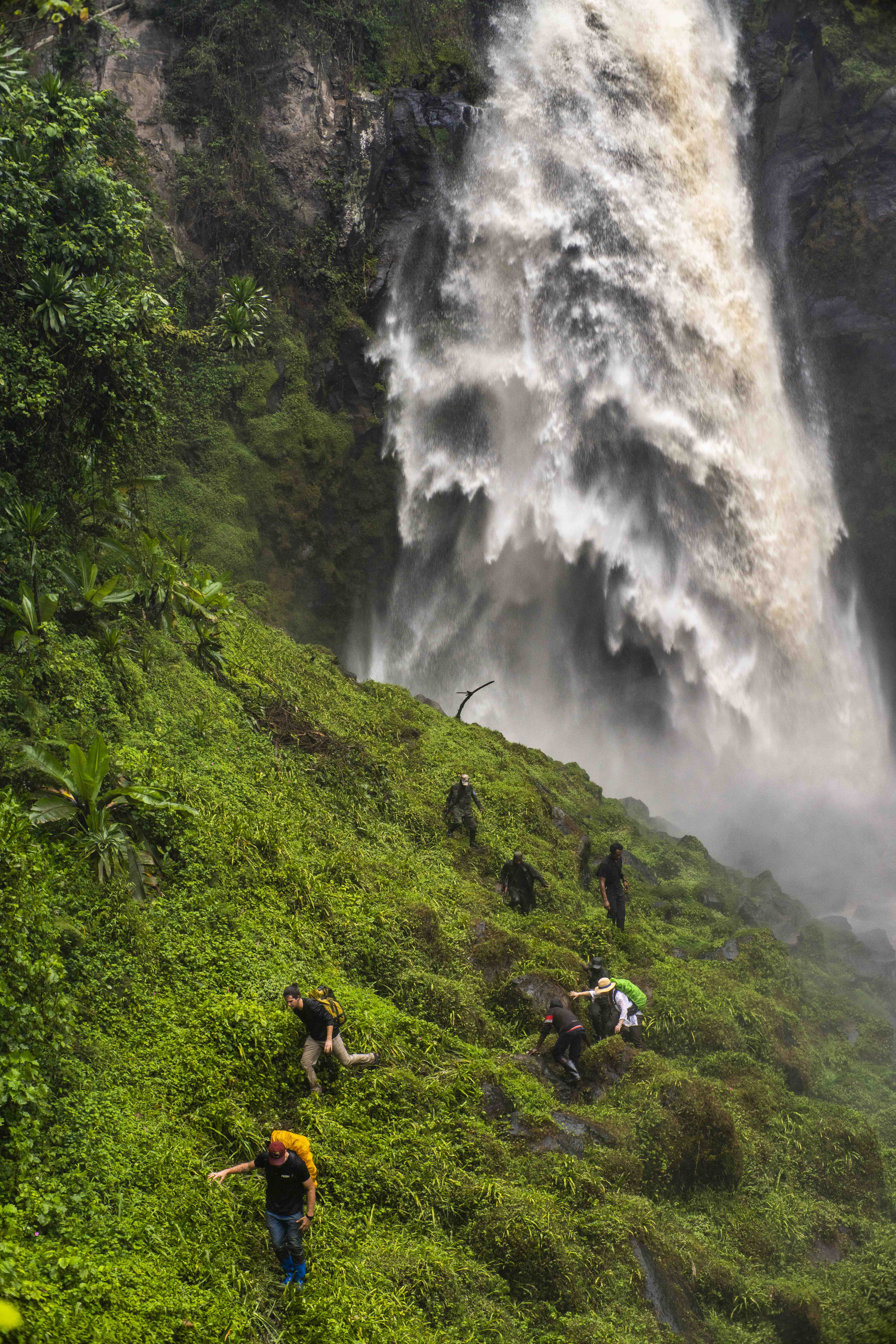 (c) Michael Christopher Brown - February 2022
TRAVEL SECURITY
We are uncompromising when it comes to the safety and security of our travellers and will not hesitate to alter plans or cancel trips due to changing security dynamics. While D.R.C. does still suffer from instability and conflict, we only travel to parts of the country which are safe for foreign tourists to visit.

Through working with Michael and a team of local guides with nearly 20 years of experience of navigating eastern D.R.C., we are able to stay abreast of any changes to the security situation.

Please see our Travel Security page for more information.
(c) Michael Christopher Brown
Your Guide
Horeb Bulambo

Horeb is a lead television reporter and field producer for numerous outlets including National Geographic, New York Times, Vice News, CNN and Netflix. In addition to his substantial support for media outlets working within D.R.C. since 1996, he has also worked for the Diane Fossey Gorilla Fund World Vision as well as MONUSCO (UN stabilisation mission in DRC).

ISHKAR Team Member
Your ISHKAR point of contact for the trip is Clare Doolan. If you have any queries about the trip:
Email: explore@ishkar.com
Book a consultation: Click here.

Clare Doolan ~ Head of Travel

Clare grew up on a big island in the middle of the Pacific (Australia) acutely aware that a bigger world awaited. For the past fifteen years, she has dedicated her personal and professional life to travel, looking for the backstory of places that get overlooked by guidebooks and google maps. Before joining ISHKAR, she spent a decade developing travel experiences for Botswana and Zimbabwe's high-end safari industry. Though Clare has travelled widely across every continent other than Antarctica, she's most fond of forays into Africa, the Middle East and Central Asia.


Contact:
clare@ishkar.com
+267 76 626 538 (whatsapp)
00:00
01 / East African
Rift Jungle
Trek into the jungle to experience life in contested lands with the Bambuti hunter gatherers. Learn about the traditional methods of living in tropical surroundings and the fight to retain identities and homelands.
02 / Volcano
Camping
Hike up to 3000m altitude and camp overnight at the edge of the caldera of one of the world's largest lava lakes.
03 / Lowland
gorillas
Hike into the jungle to visit the eastern lowland gorilla; the largest of the four gorilla subspecies in the world. Years of civil unrest in the D.R.C. have taken their toll on these gorillas as their habitat has been reduced down to only 13% of its historical range.
04 / Nobel Prize
Winner
Spend an afternoon in Bukavu with Dr Denis Mukwege, Nobel Prize Winner and founder of the Panzi Hospital.
(c) Michael Christopher Brown
ISHKAR's trip to the East D.R.C. made the realization of an old dream become true: Visiting one of the most fascinating and dramatic places on earth. The highly professional guidance by ISHKAR that was at any time perfectly tailored to the situation on site as well as the countless valuable inputs by master photographer M.C. Brown have made this venture an unforgettable experience.
- David Erni,
ISHKAR Traveller 2021
(c) Michael Christopher Brown
I'm glad there's a company such as this to enable visiting places in the world like the Kivus. Hard to believe arriving in DRC, let alone for an extended time, didn't seem to be an option for me only a few months ago.
- Belton McMurrey,
ISHKAR Traveller 2021
(c) Jacob Schmidt

I was not centered around photography - the experience was so much more than that. Michael did a great job going beyond his photography skills and giving context and stories about the locations as well. I consider him a great friend and helpful teacher.
- Jacob Schmidt,
ISHKAR Traveller 2021
Is it safe in D.R.C. and in North/South Kivu?
D.R.C. has suffered instability for nearly 20 years since the First Congo War in 1996 and the Second Congo War from 1997-2003. Whilst peace was achieved in 2003, the war left a legacy that continues to be felt as a result of ethnic violence, authoritarian leadership and extreme poverty. Between 2012-2016, in addition to ongoing violence driven by armed groups such as M23 in the east, a conflict commenced in the Kasai region which led to the country's most recent large-scale humanitarian crisis. Political tensions escalated more recently (2016-2019), when elections were delayed by 2 years, which led to the resignation of President Joseph Kabila.
A large part of the ongoing violence is centred around the province of Ituri, with more remote corners of North and South Kivu being home to a number of armed groups. Violence is usually targeted at Congolese and is a result of the legacy of earlier conflicts leading to intercommunal violence.
To counter risk of violence and kidnap within D.R.C., we rely on a network of contacts, both local and international. We do not travel after daylight hours and will be predominantly centred around Goma and Bukavu, avoiding areas impacted by conflict. Through working with Michael and a team of local guides with nearly 20 years of experience of navigating eastern D.R.C., we are able to stay abreast of any changes to the security situation. At ISHKAR ensuring the safety of our travellers is at the heart of what we do. For more information surrounding our approach to security read this page.
How will COVID-19 affect the trip?
In order to protect both our travellers and those that our travellers come into contact with, we mandate a strict set of COVID-19 protocols which include social distancing, usage of hand sanitiser and the wearing of face coverings. Our COVID-19 procedures are based on up to date advice from the World Health Organisation in addition to following local requirements. Along with our security information, we ensure to send out our COVID-19 procedures document to every traveller.
All travellers (regardless of vaccination status) are required to obtain a negative PCR test result within 72 hours prior to departure. Within 24 hours prior to departure travellers (regardless of vaccination status) must also obtain proof of a negative rapid antigen test result. Proof of both these tests must be sent to ISHKAR prior to departure, and its cost will covered by the traveller, not ISHKAR.
Should ISHKAR decide to cancel a trip as a result of COVID-19 or should a traveller be unable to take part in the trip as a result of COVID-19, you will be offered options including a full refund as per our COVID-19 Travel Policy. Any further questions, please take a look at our COVID-19 Travel FAQs, and our generic COVID-19 Protocols, or contact a member of the team: explore@ishkar.com
Do I need to be fit?
Yes, a good level of fitness is required. On one of the days we will be walking for up to 6 hours uphill in order to reach our campsite at 3000m. This will be a height gain of approximately 1400m over the course of 9km. The terrain is rough under foot and in particular the descent can at times be slippery.

What is the weather like?
D.R.C. is a trans-equatorial country which means temperatures remain fairly consistent throughout the year. At lower altitudes such as in Goma (1500m) the average daytime temperature sits between 20-25°C in February. Humidity is high throughout the year and therefore can result in temperatures rising to 35°C, but if at altitude it can drop to 10°C overnight (for example when camping overnight on the volcano.) DRC has been known to have some of the highest frequencies of thunderstorms in the world, and there are on average 16 days of rainfall in February. Whilst hiking up the volcano there is a likelihood that it may rain, but the temperature will remain mild.
Where can I see the exact itinerary?
We do not publish our itinerary online for security reasons. We will give further information on the itinerary on enquiry. Please note that the exact itinerary is subject to change. Write to explore@ishkar.com to request the trip information pack.

What is included in the cost?
The cost includes domestic flights, all accommodation, guiding, transport/transfers in D.R.C., breakfast, lunch and dinner and entrance fees. It does not include international flights into and out of Goma, visa fees (invoiced separately), insurance, excess luggage charges, cameras, alcohol, additional food and drinks, medical expenses, tipping, or trips to the gorillas.
When do I need to book?
As early as possible, this trip is likely to be booked up fast. A deposit of $650 will secure your place, and the final balance needs to be paid 60 days prior to departure. You can pay this online, or via bank transfer directly to us.
How do I get a visa?
We will provide you with additional documentation to help with your visa application, along with advice specific to your country of residence.
Will we have a guide?
Throughout the trip, you will be accompanied by a local guide who speaks fluent English amongst seven other languages. He has worked for the UN's stabilisation mission in D.R.C. and World Vision, along with being a leading reporter and field producer for a range of media outlets since 1996. He is well connected across the region and knows his country like the back of his hand. You will also be accompanied throughout by Michael, with his working knowledge of the region, and an ISHKAR representative to support all your needs.
Do I need special travel insurance?
You are required to have full travel insurance specific to the region and the activities. This will need to include suitable Kidnap, Ransom & Extortion Insurance.
If you are unsure if your existing travel insurance policy will cover you, we can suggest specialist insurance companies.
We use Battleface and highly recommend it. Other options include (but are not limited to): Clements, World Nomads, Petersen, Cambell Irvine or The Universal Insurance Co Ltd.
Will I be able to travel on my own?
We will stay as a group for the duration of the trip. You may choose to travel on your own before the start or after the finish of the trip, but whilst travelling with ISHKAR you are requested to remain with the group.
Do I need any vaccinations?
You will be required to present a yellow fever certificate on arrival in D.R.C. Please speak with your doctor to ensure you have the correct vaccinations & malaria prevention for remote travel in D.R.C. Further information can be found at https://travelhealthpro.org.uk/.
What do I need to bring?
We will send you a more detailed handbook before leaving, including recommended reading and clothing.
Where will we be staying?
We will be staying in a mixture of hotels and guesthouses in addition to huts whilst visiting the volcano. There is not an option to share rooms unless you are a couple.
Can I come on my own?
Yes of course! Individuals and small groups are equally welcome. Personally, we also think this could be the perfect trip to experience with a friend, parent, child, or partner!
What is the food like?
All meals are included. Cuisine varies widely from more western oriented restaurants, to menus centred around cassava, fufu (balls of puree white yams, sweet potatoes, or plantain) rice, plantain and potatoes with side dishes. Fresh fruit and snack food will also be available throughout. Why not try "Poulet à la Moamba" - chicken in a peanut sauce.
When do I need to book my flights?
If you are thinking of applying, please email us at explore@ishkar.com and we will send you the flights you will need to book, in order to ensure that all travellers' arrivals into Goma are coordinated.
Can I book even if I don't live in the UK?
Yes of course, our travellers always come from a mix of different countries. You will just need to arrive at Addis Ababa in time to catch the flight to Goma.

Do I have to be a keen photographer to take part in this trip?
No absolutely not. There will be plenty of opportunities to explore the region without your camera, and Michael will be happy to provide tips only if you wish to have them.
Do I need to have a good camera for the trip?
No, feel free to bring any camera you wish, including just using the camera on your phone.