OUR DESTINATION
As one of the oldest countries on earth, Ethiopia's story is long and varied. Although now landlocked, Ethiopia's borders once stretched as far as the Red Sea, where it dominated the spice trade in the first millennium AD, becoming the maritime trading power of the region.
Ethiopia is one of the few African countries to resist European colonisation over recent centuries, arguably having greater influence itself on Europe, where Ethiopia's coffee beans have now transformed cafe culture.
Beyond the trade in goods, Ethiopia has also been host to massive movements of ideas and ideology - from hosting the Queen of Sheba's origin story, the building a new Jerusalem at Lalibela.
Beyond its cultural significance, Ethiopia also plays host to a multitude of landscapes, habitats, wildlife and languages - all equally ripe for exploration.
LANDSCAPES
Ethiopia is a land of dramatic contrasts and extremes, from some of the Africa's highest mountains to its lowest point at the Danakil Depression.
Ethiopia's kaleidoscope of landscapes includes the jagged peaks of the Simien Mountains where endemic gelada baboons thrive, to the afro-alpine forests of the Bale Mountains and the luminescent hues of the Danakil Depression.

Ethiopia hosts her own inland sea at Bahir Dar, remote monasteries and churches in spectacular surrounds, and a fossil record dating back to Lucy, one of the world's oldest hominids.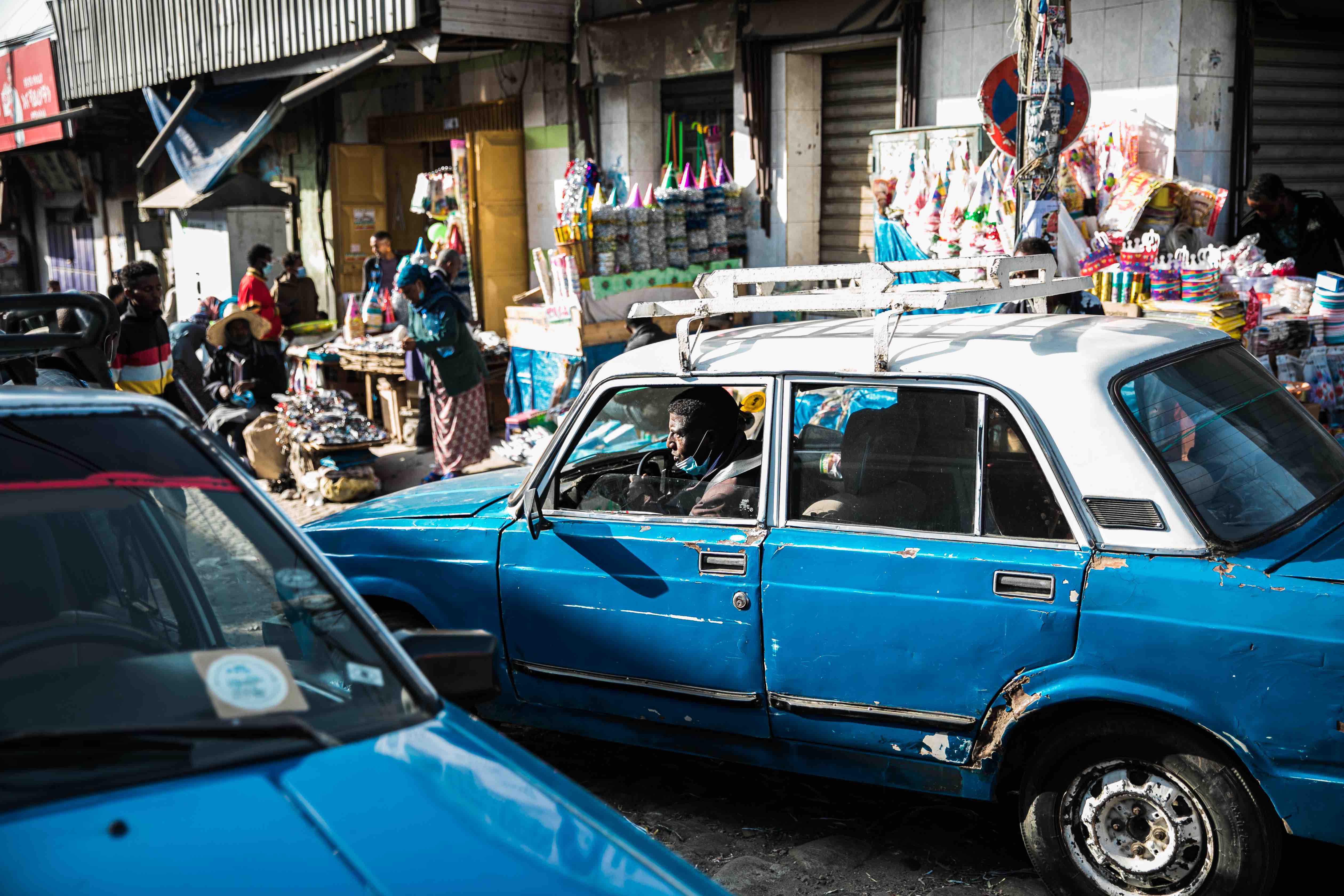 GROUP TRAVEL
One of the best things about going on an ISHKAR trip is the group of people with whom you travel. Our trips attract informed, critically minded and adventurous people from all around the world.
Some of you will be drawn by the prospect of spending time in the remote wilderness, others will be drawn by the chance to learn about a fascinating and poorly understood part of the world.
We get to know everyone who applies to our trips over the phone. In this way we can curate groups guaranteed to enjoy sharing this extraordinary experience together. What unites everyone is the same curious spirit and desire to get far away from the typical tourist trails.
We plan to travel with a minimum of 4 people and a maximum of 8 people in order to make this trip possible.
The Price
The price for this once in a lifetime trip is $4990. The price will include all food, transport and accommodation whilst in country. We will be assisted by guides who know the region inside out, providing access to a multitude of insights on Northern Ethiopia.
A 20% deposit of $1000 secures your place on this departure.

Email to apply now: explore@ishkar.com
Book a consultation with us: Click here.
Call us on: +44 7984 102 639

* Where international payments are due, we request that you ensure the full amount is received, after all bank charges have been levied as per the price and currency stated on the invoice stated.

TRAVEL SECURITY
We are uncompromising when it comes to the safety and security of our travellers and will not hesitate to alter plans or cancel trips due to changing security dynamics. While there have been issues with security in Ethiopia's Afar Region, this itinerary is not scheduled to travel to any areas with security concerns and our routing is all planned with the advice of our support team based in Addis Ababa.

Through working with our team of local guides we are able to stay abreast of any changes to the security situation if there were any.

Please see our Travel Security page for more information.
ISHKAR Team Member
Your ISHKAR point of contact for the trip is Clare Doolan. If you have any queries about the trip:
Email: explore@ishkar.com
Book a consultation: Click here.

Clare Doolan ~ Head of Travel

Clare grew up on a big island in the middle of the Pacific (Australia) acutely aware that a bigger world awaited. For the past fifteen years, she has dedicated her personal and professional life to travel, looking for the backstory of places that get overlooked by guidebooks and google maps. Before joining ISHKAR, she spent a decade developing travel experiences for Botswana and Zimbabwe's high-end safari industry. Though Clare has travelled widely across every continent other than Antarctica, she's most fond of forays into Africa, the Middle East and Central Asia.


Contact:
clare@ishkar.com
+44 (0) 7984 102 639
01 / Africa's capital
From coffee and khat in Addis Ababa's sprawling Mercato to nights filled with Ethio-jazz and injera, the African Union's capital has something for all of the senses
02 / Hiking highlands
Head to Ethiopia's dizzying mountaintops to wake up with the gelada baboons, and hike to far-flung monasteries and waterfalls
03 / Medieval monoliths
Explore Ethiopia's 'new jerusalem', carved out of rock under the instruction of King Lalibela in the twelfth century
04 / Coffee and christianity
Discover the cultural complexities of a never-colonised country, nevertheless filled with layers of foreign influence via ancient trades in spice, coffee, religion and architecture
This was my second time travelling with ISHKAR and I'm grateful I had a chance in exploring the remote and wondrous region of Northern Pakistan with ISHKAR as its local team was amazing in taking me to all the extraordinary places that offered me a breathtaking adventure and an inspirational experience. Looking forward to having another memorable journey to other extraordinary yet obscure parts of this world with ISHKAR again.
Andi - "Hunza, a Local Perspective" traveller 2022
Visiting Congo was a childhood dream. Michael Christopher Brown and ISHKAR made it possible under the best conditions. I would recommend this experience to anyone interested in the this beautiful part of the world.
JB - "DR Congo x Michael Christopher Brown" traveller 2022
I travelled with ISHKAR to Socotra in March and had the most wonderful time. Challenging, inspiring, informative and full of adventure. The team was impeccable in leading the trip, from organisation to making sure each traveller experienced the extraordinary magic of the island and its people.
Sarah - "Socotra : on foot & by boat" traveller 2022
I've heard about the conflict in Tigray, is it safe to travel to Ethiopia?
ISHKAR's core ethos has always been to show travellers that there is more than one reality to be experienced in countries impacted by conflict and media-biased stereotyping.
As such, it is never ISHKAR's goal to take travellers to regions experiencing active conflict, but rather to create an awareness of the regions and communities that exist apart from the negative news stories reported abroad. We only include travel experiences to areas where we can highlight the positivity, beauty and vibrancy of countries such as Ethiopia, despite the difficulties faced in particular regions, or at previous points in time in locations we do visit.
We will not visit any areas at risk of conflict on our routing, and work closely with our local partners based in Ethiopia and their guidance to ensure we are flexible enough to adapt our plans in the event that we might anticipate any unacceptable potential for risk in this way.
At ISHKAR ensuring the safety of our travellers is at the heart of what we do. For more information surrounding our approach to security read this page.
What is the weather like in June?
The north of Ethiopia (except for Tigray and the Danakil) is a highland area mostly above 2000 metres altitude. It is on the same latitude as Sudan and Djibouti, but given the higher land mass, temperatures are mostly very agreeable in the 15° to 27° range, night to day. Temperatures do not change much because Ethiopia is near the equator. What changes is the precipitation.

In the highlands, heavy rainfall can be expected in July and August, whereas in the south, heavier rainfall is expected from April to May. Other than these months and locations, weather in the parts of Ethiopia planned for travel is generally pretty good.
Where can I see the exact itinerary?
We do not publish our itineraries online. We will give further information about the itinerary upon enquiry. Please write to explore@ishkar.com to request the trip information pack.
What is included in the cost?
The cost includes all accommodation, internal flights, guiding, road transport, breakfast, lunch and dinner and entrance fees. It does not include international flights into and out of Addis Ababa, visa fees, insurance, tipping and other costs of a personal nature.
When do I need to book?
As early as possible, this trip is likely to be booked up fast. A deposit of $1000 will secure your place, and the final balance needs to be paid 60 days prior to departure. You can pay this online, or via bank transfer directly to us.
How easy is it to get a visa?
You can apply for a tourist visa for Ethiopia through the government's online portal
A 30 day, single entry visa cost USD$52 for most nationalities at the time of the last update.
When do I need to book my flights?
If you are thinking of applying, please email us at explore@ishkar.com and we will help advise you on flights to book to link up with the group in Addis Ababa.
Ethiopian Airlines is well connected to most regions and major cities, either with its own flight schedule or partner airlines.
Do I need special insurance?
You are required to have full travel insurance specific to the region and the activities.
If you are unsure if your existing travel insurance policy will cover you, we can suggest specialist insurance companies.
We use Battleface and highly recommend it. Other options include (but are not limited to): Clements, World Nomads, Petersen, Cambell Irvine or The Universal Insurance Co Ltd.
Will I be able to travel on my own?
We will stay as a group for the duration of the trip. You may choose to travel on your own before the start or after the finish of the trip, but whilst travelling with ISHKAR you are requested to remain with the group.
If you would like to stay on in the region and need assistance with planning, please talk to us & we'll be happy to help.
Do I need any vaccinations?
Please speak with your doctor to ensure you have the correct vaccinations for travel to Ethiopia.
What do I need to bring?
We will send you a more detailed handbook before leaving, including recommended reading and clothing.
Where will we be staying?
You will be staying in hotel accommodation throughout the trip, and travelling either by road or domestic flight. We will give you more specific details when talking to you about your plans to travel.
Can I come on my own?
Yes of course! Individuals and small groups are equally welcome. Personally, we also think this could be the perfect trip to experience with a friend, parent, child, or partner!
Can I book even if I don't live in the UK?
Yes of course, our travellers always come from a mix of different countries.