PLANTING TREES IN AFGHANISTAN
by ISHKAR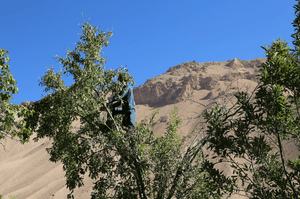 As a travel company we don't believe its enough to simply off-set the carbon emissions generated by our travellers flights. We have calculated a formula for the most effective way to ensure long term carbon capture that we are implementing in Bamiyan, Afghanistan.
There is a lot of hype about tree planting, and some of it is not so good. We don't believe it's enough to simply plant a tree - or two - per flight, without a tangible impact. So we've researched varieties of local sapling, soil quality and tree mortality rate and established a formula to ensure long-term carbon capture. See Fig. 2.
Fig 2. ISHKAR Carbon Calculus.
Due to the impact of COVID-19, the planting has been postponed but we will begin planting early 2021 and we are committed to growing this initiative the more trips we organize at ISHKAR
What to read next?
See more of our writing here