Join us on the winter trip of a lifetime. Ski the untouched powder of Afghanistan, and visit ancient historic sites nestled in the spectacular mountains of Koh-e Baba. 
oin a group of six people or request a tailored trip.

The total price for the trip is $3990 (plus a single supplement if your wish).  We interview all those that apply to join the trip.  Once selected, participants will be required to pay a $650 deposit to secure their place on the trip. 
To express your interest and for further information, please contact us at: explore@ishkar.com
, or book a consultation with us by clicking on the button above.
What?
A rare and pioneering week spent in the winter scenery of Bamiyan's mountains in Afghanistan with two of Afghanistan's national ski champions as your ski hosts.

Where?
The Koh-e Baba mountain range lies across the way from the ancient mineral streaked Hindu Kush, soaring above the lowlands of Bamiyan, Afghanistan.
When?
Please contact us for further information.

Who?
The trip is open to all avid skiiers. Whilst this is a mix of sight seeing and back-country skiing, you will need to be fit enough to walk up the mountains and have some experience of back-country skiing. Our ski hosts will be on hand to give one-to-one tips and show you the routes through the mountains.

You have the choice to join a group of 6 people, or organise smaller private groups tailored to your needs. Throughout the trip, we will be accompanied by your competent local guides and ski hosts, who both speak fluent English.

Due to high demand, we interview everyone who applies to join ISHKAR trips. Your group travel experience is as important to us as the destination experience.

Cost & Booking Information
The total price* for the trip is $3990**. A non-refundable deposit of $650 is required to secure your place on the trip.

Please note that by paying the deposit, you agree to abide by our Terms & Conditions.
For further information, please contact us at: explore@ishkar.com
UK: +447946268180
FR: +33612101284
* Single supplement applied where requested.
** Where international payments are due, we request that you ensure the full amount is received, after all bank charges have been levied as per the price and currency stated on the invoice stated.
Preorders explained
If an item is out of stock you are able to preorder the item, so that you're first in line when its back. Once you have preordered an item we guarantee the order to be shipped to you within four months. If the item is delivered outside this window we will provide you with your money back. Often the order will arrive well within this four month period. Contact preorders@ishkar.com for more accurate information on when orders for this product are likely to be ready.
OUR DESTINATION
Bamiyan lies between the ancient mineral streaked Hindu Kush mountains and the soaring sharp peaks of the Koh-e Baba. Bamiyan's valleys are full of ancient 'Qala' - mud brick fortresses and crumbling ruins dating back to when Genghis Khan laid ruin to the region.

Bamiyan is a safe and peaceful part of Afghanistan, populated by the Hazara people, viciously persecuted by the Taliban during their rule.

We will be flying directly from Kabul into Bamiyan, avoiding the parts of Afghanistan which draw international headlines.
Meet your pioneer ski hosts
Explore the mountains of Afghanistan's ski pioneers - Sajjad Husaini and Alishah Farhang. As national representatives for the sport, and growing up within the province, they are founding members of the Bamiyan Ski Club - Afghanistan's first and only ski club.

Coming from a small village in Afghanistan, they never dared to dream about joining the Winter Olympics. But they were given the chance to train in St. Moritz during three consecutive seasons, and was invited to the Pyeongchang Games in South Korea in February 2018.

Enthusiastic about spreading their love for skiing in their home country, Alishah also created the first ski lift, fashioning it out of a wheelbarrow, a rope and a motorcycle.

Group travel at its best
Our trips attract informed and adventurous people from all around the world.

Some of you will be drawn by the prospect of skiing in the remote wilderness, others will be drawn by the chance to learn about a fascinating and poorly understood part of the world.

We get to know everyone who applies to our trips over the phone. In this way we can curate groups guaranteed to enjoy sharing this extraordinary experience together.
What unites everyone is the same curious spirit and desire to get far away from the typical tourist trails.
The Price
The price** for this once in a lifetime trip is $3390 per person*. If you are interested in a more personal experience, please feel free to get in contact with us to discuss more options.

The trip includes five days of back country skiing with our ski hosts, inclusive of all food, travel and accommodation whilst in the country. Equipment is available to hire at an additional cost if required.

These trips are expected to fill up fast.

Email to register your interest now: explore@ishkar.com

Call us on +447946268180

* Single supplement applied where requested.
** Where international payments are due, we request that you ensure the full amount is received, after all bank charges have been levied as per the price and currency stated on the invoice stated.

TRAVEL SECURITY
We are uncompromising when it comes to the safety and security of our travellers and will not hesitate to alter plans or cancel trips due to changing security dynamics. While large parts of Afghanistan suffer from instability and conflict, we only travel to parts of the country which are safe for foreign tourists to visit.

After one night in Kabul - where we stay at a very secure and low profile UN security-approved guesthouse - we will fly to Bamiyan, a safe and peaceful region which has not been touched by the insecurity seen elsewhere in the country.

We have lived and worked in Afghanistan for many years and we have a strong network of local partners to ensure our security and provide us with the most up-to-date security information.
Please see our Travel Security page for more information.
ISHKAR Team Member
Your ISHKAR point of contact for the trip is Ernesto Rollando.
If you have any queries about the trip, Ernesto is always on hand to answer them. Email explore@ishkar.com.
Ernesto Rollando ~ Project Manager
Ernesto's passion for Afghanistan was born when he led an avalanche prevention programme with the skiers of Bamiyan on behalf of the NGO, Alpistan. In addition to being an experienced mountaineer, his diverse previous experiences range from working for UNDP in Samoa to learning traditional skills of Oceanic navigation in the Pacific Ocean.

00:00
01 / Untouched powder
Ski in untouched powder in the heart of Afghanistan's mountains, and experience what skiing was like in the days before ski resorts.
02 / Personal
ski host
Have one of Afghanistan's national ski champions as your personal ski host. Learn about his experiences establishing Afghanistan's first ever ski club and training to qualify for the Winter Olympics.
03 / Bamiyan Buddhas
Explore the hundreds of caves which pockmark the cliffs next to the famous Buddha niches, and visit historic sites dating back to the times of Genghis Kahn.
04 / 'Apres-tea'
Sip tea at the end of the day whilst looking back and admiring your new tracks in the pristine snow.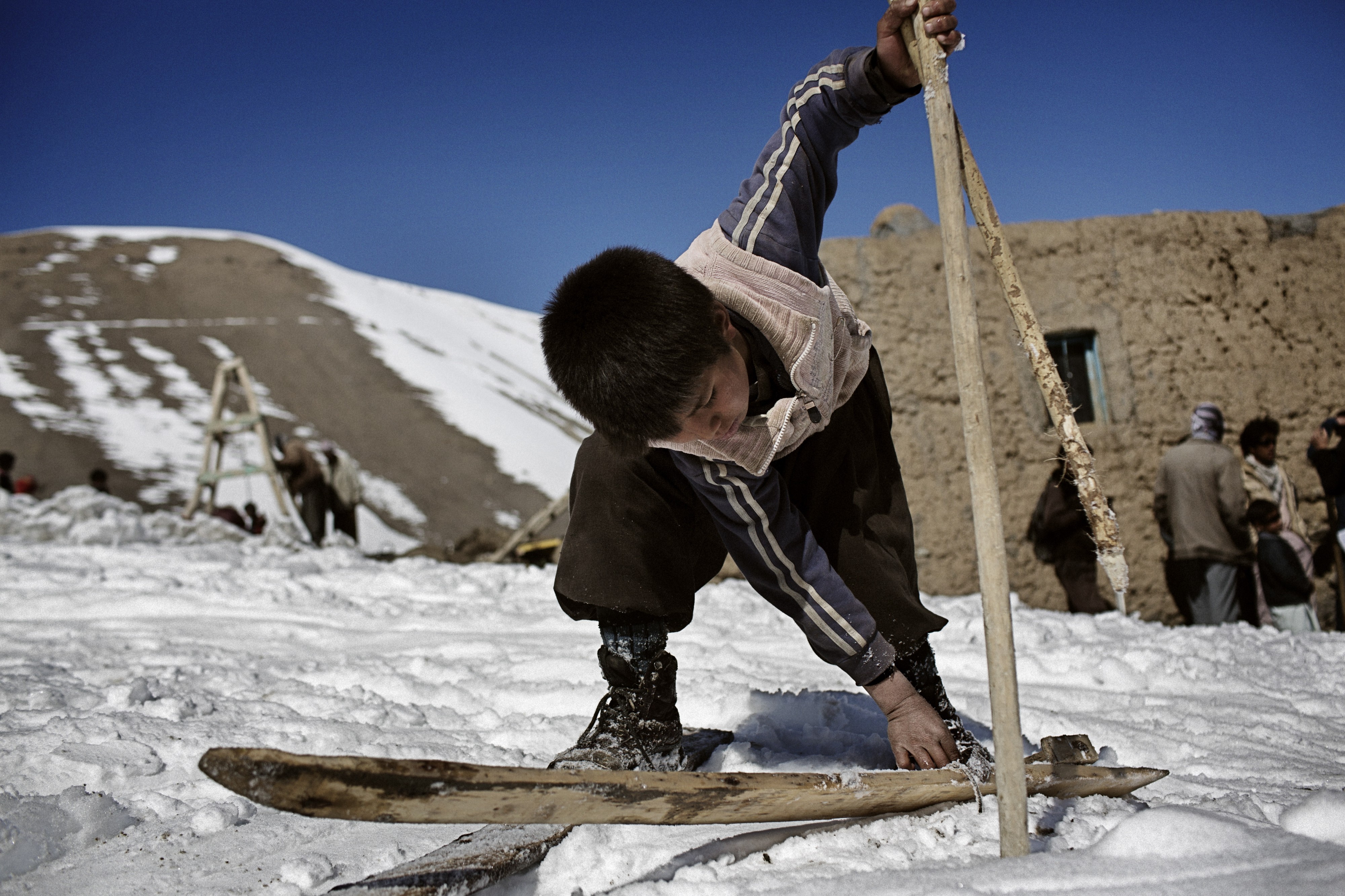 Following the steps of amazing local individuals, you discover a great community. Skiing in Bamyan is paying tribute to their difficult challenges: bringing back Afghanistan's brightest sides to the frontline.
- Oscar Friedel, Ski Afghanistan Traveller 2020
It was an absolute joy travelling with ISHKAR - immersive, authentic and fun.
- Annabel Illingworth, Ski Afghanistan Traveller 2020
Can't tell friends enough about our journey with ISHKAR in Afghanistan. Would jump at going on another ISHKAR trip without hesitation. If you are thinking about it, don't. Just go.
- Annette Widitz, Bamiyan Traveller 2019
Is it safe in Bamiyan?
Visiting Afghanistan is not like other travel destinations and we need to take extra precaution with security. We will be flying directly from Kabul into Bamiyan, a stable and peaceful region, avoiding the parts of Afghanistan which draw international headlines.

Whilst we want participants to have as much freedom as possible, the local guides and ISHKAR have the final say if we need to change in the itinerary for safety reasons. If there is an extra expense incurred due to the change of itinerary then you may be asked to bear part of that cost.

Do I need to be fit?
Yes. There are no ski lifts in Afghanistan. This means that every day you will be walking up high mountains at an altitude of between 2500 and 3500m. While our deliberately small group sizes allows us to cater to less experienced skiers, this trip is really more suited to competent skiers who have had some experience in ski touring.
Do I need ski equipment?
No, ski equipment is available for hire locally, at an additional cost, however you are more than welcome to bring your own. It is mandatory to carry avalanche kit including a transciever. If you do not have your own, this can be hired with ease from the Bamiyan ski club on arrival.
Do I need to be an expert skiier?
No. We can tailor the ski routes to your level, however we do recommend you have some experience skiing off-piste. That said you will be skiing in high mountains and in remote mountain valleys far from any villages, so you do not to be confident in your own capabilities. This skiing is a far cry from resorts in the Alps.
Will we have a guide?
Throughout the trip, you will be accompanied by an extremely competent local ski host and tour guide who speak fluent English and knows the mountains like the back of their hands.
Do the ski hosts have formal qualifications?
Yes, they are qualified ski guides and have first aid and trauma qualifications specific to skiing. Additionally they know the Koh-e Baba mountains extensively and therefore know the areas of risk and will ensure that all routes are well within your capabilities.
Do I need to have received avalanche training prior to departure?
No, although it would be beneficial if you do already have some understanding. Your ski hosts are qualified to give you training on arrival should you require it to make sure you are up to date.
Why travel with us?
We are proposing a different new travel experience. With years of experience and a network of fantastic contacts, we want to show people Afghanistan we know. This trip will be about meeting inspiring people, visiting extraordinary places and experiencing a true adventure in one of the world's most beautiful and yet least visited regions.
The stories we see in the news about Afghanistan tend to have a single-minded focus on the conflict. While this violence is still a daily reality for many Afghans, there are also stories we rarely hear: tales of ancient history, rare wildlife and truly unique scenery. Tourism is not the answer to all of Afghanistan's problems, but it can help a little. We want to put money directly into local pockets and encourage a sense of pride by treating Afghanistan as a desirable place to visit.
Where can I see the exact itinerary?
We are not publishing our itinerary online for security reasons. We will give further information about the itinerary to those of you travelling and a select few others. Please note that the exact itinerary is subject to change.
What is included in the cost?
The cost includes domestic flights (from Kabul - Bamiyan and back), all accommodation, ski hosting, transport/transfers in Afghanistan, breakfast, lunch and dinner, entrance fees. It does not include international flights into and out of Afghanistan, visa fees, insurance, equipment hire, excess luggage charges, cameras, alcohol, additional food and drinks, medical expenses, tipping.
When do I need to book?
As early as possible. The trip is for a maximum of 8 people and we expect it will fill up quickly.

A deposit of $650 will secure your place and the final balance needs to be paid 60 days before departure.

How easy is it to get a visa?
Very easy. You will need to apply for a one-month tourist visa. We will advise you on how to do this.
Do I need special travel insurance?
You will be expected to have full travel insurance that covers the region and the snowsports in remote areas. If you are unsure if the policy covers you we can suggest the specialist insurance providers. We use Battleface and highly recommend it.
Will I be able to travel on my own?
We will stay as a group for the duration of the trip. However, where possible we will break into smaller groups.
Can I explore Kabul?
We do not recommend travelling independently to Kabul. However, if this is something you are interested in do let us know so we can advise you on what to do/see and how to do it.
Can I explore further into the mountains?
Yes, for the intrepid we can organise an extended trip up to 4000m, to visit the frozen lakes in the high mountains. This additional add on, includes a stay in a local house in a nearby village and the chance to camp at altitude. Please contact us for more information explore@ishkar.com.
Do I need any vaccinations?
We suggest confirming all boosters of Hepatitis A; Poliomyelitis; Tetanus; Typhoid and MMR. However, please also check with your doctor what you might need.
What do I need to bring?
We will send you a more detailed handbook before leaving, including recommended reading and clothing. Ski equipment is available for hire locally, at an additional cost, however you are more than welcome to bring your own.
Where will we be staying?
We will be staying at a local hotel which is comfortable, warm and has Wifi. There will be an option of a shared or a single room.
Can I come on my own?
Yes of course. Individuals and small groups are equally welcome. Personally, we also think this could be the perfect trip to experience with a friend, parent, child, or partner!
What is the food like?
All meals are included. Afghan food can be enjoyable and hearty, but we must warn you this is not the culinary capital of the world! There are vegetarian options in most places but please consult us if you have very specific dietary requirements.
When do I need to book my flights?
If you are thinking of applying please email us at explore@ishkar.com and we will send you the flights you need to book. We advise booking them as soon as you have confirmed your place on the trip.
Can I book even if I don't live in the UK?
Yes of course. You will just need to arrive at Kabul airport in time to catch the domestic flight.