In October 2020 travel to Bamiyan, Afghanistan, for 10 days with Andrew Quilty, an award-winning photojournalist, who will be teaching us how to capture the essence of Afghanistan.

The total price for the trip is $4450.  You will be required to pay a $650 deposit to secure a place on the trip.
To express your interest and for further information, please contact us at: explore@ishkar.com , or book a consultation with us by clicking on the button above.
What?
Travel with award-winning photojournalist Andrew Quilty through the breathtaking landscapes and history of central Afghanistan. Come back with your own stories about a region frequently in the headlines.

Where?
The safe and peaceful region of Bamiyan, in central Afghanistan.
When?
We will be running a 10 day trip in October 2020.
Contact us for further information on precise dates.
Who?
The trip is open to all curious minds. You don't have to be an expert photographer, nor an expert traveler, we will all be learning along the way.

We will be a small team of up to 8 people. Throughout the trip, we will be accompanied by a local guide, along with a member of the ISHKAR team and Andrew Quilty.
Due to high demand we interview everyone who applies to join ISHKAR trips. Your group travel experience is as important to us as the destination experience.

Cost & Booking Information
The total price* for the trip is $4450**. A non-refundable deposit of $650 is required to secure your place on the trip.

Please note that by paying the deposit, you agree to abide by our Terms & Conditions.
For further information, contact us at: explore@ishkar.com, or book a consultation with us.
UK: +447946268180
FR: +33612101284
* Single supplement applied where requested.

** Where international payments are due, we request that you ensure the full amount is received, after all bank charges have been levied as per the price and currency stated on the invoice stated.
OUR DESTINATION
Bamiyan lies between the ancient mineral streaked Hindu Kush mountains and the soaring sharp peaks of the Koh-e Babur. Its verdant green valleys are full of ancient 'Qala' - mud brick fortresses and crumbling ruins dating back to when Genghis Khan laid ruin to the region.

Bamiyan is a safe and peaceful region, populated by the Hazara people, viciously persecuted by the Taliban during their rule.

We will be flying directly from Kabul into Bamiyan, avoiding the parts of Afghanistan which draw international headlines.
Meet the master
Andrew Quilty is an award winning photojournalist whose iconic photographs have graced front-pages from the New York Times to Time Magazine and has garnered accolades including a World Press Photo.
Andrew travelled to Afghanistan in 2013, just as the international world started to vacate the country. Originally planning to stay only a few weeks, he found that the striking beauty of Afghanistan's people and landscapes had captured his imagination and he has remained there since.
Over 4 days of varied workshops, we will learn how to anticipate our subjects and the environment, taking home not only a collection of wonderful images but practical knowledge, so we can do it all again wherever we go.
GROUP TRAVEL
Our trips attract informed and adventurous people from all around the world.

Some of you will be drawn by the opportunity to learn photography from a master of their craft, others will be drawn by the chance to learn about a fascinating and poorly understood part of the world.

We get to know everyone who applies to our trips over the phone. In this way we can curate groups guaranteed to enjoy sharing this extraordinary experience together. What unites everyone is the same curious spirit and desire to get far away from the typical tourist trails.
The Price
The price for this once in a lifetime trip is $4450* per person**. This sum includes all food, transport and accommodation whilst in country, along with photography workshops with Andrew Quilty. We will be assisted by guides who know the region inside out, providing access to areas rarely seen by tourists.

Email to apply now: explore@ishkar.com

Call us on +447946268180

* Single supplement applied where requested.
** Where international payments are due, we request that you ensure the full amount is received, after all bank charges have been levied as per the price and currency stated on the invoice stated.

TRAVEL SECURITY
We are uncompromising when it comes to the safety and security of our travellers and will not hesitate to alter plans or cancel trips due to changing security dynamics. While large parts of Afghanistan suffer from instability and conflict, we only travel to parts of the country which are safe for foreign tourists to visit.

After one night in Kabul - where we stay at a very secure and low profile UN security-approved guesthouse - we will fly to Bamiyan, a safe and peaceful region which has not been touched by the insecurity seen elsewhere in the country.

We have lived and worked in Afghanistan for many years and we have a strong network of local partners to ensure our security and provide us with the most up-to-date security information.
Please see our Travel Security page for more information.
Your Guides
Sajjad Husaini & Alishah Farhang
Alishah & Sajjad are two of the few athletes in winter sports in Afghanistan, and central figure in the nascent tourism industry in Afghanistan. Originally born in Bamiyan, both are now leading guides in the region, sharing the desire to offer the world a different view of Afghanistan.

ISHKAR Team Member
Your ISHKAR point of contact for the trip is Zanna Baker.
If you have any queries about the trip, Zanna is always on hand to answer them. Email explore@ishkar.com.
Zanna Baker ~ Head of Travel

Zanna joined the team in ISHKAR's early travel days. In her former life, she worked all over from Norway to Antarctica, Somalia and Uganda, managing a variety of projects. She is on hand to deal with any of your trip logistics and concerns.

00:00
01 / Bamiyan
Buddhas
Created in AD 500, the Buddha's were infamously destroyed by the Taliban in 2001. We will explore the vast niches and hundreds of caves which pockmark the cliffs around (some of which are inhabited to this day).
02 / Photography workshops
Learn the art of photography in Afghanistan through 4 days of workshops with leading photojournalist, Andrew Quilty.
03 / The sapphire-blue lakes of Band-e-Amir
Spend the night in Afghanistan's first national park and swim in the crystal clear sapphire lakes of Band-e Amir.
04 / Ancient
fortresses
Clamber up the ramparts of age old fortresses like Bamiyan's red fort, and amongst the dramatic ruins of the 'City of Screams', perched high on the cliffs over the Kalu river.
Can't tell friends enough about our journey with ISHKAR in Afghanistan. I particularly enjoyed the small group vibe, the variety of activities and the warmth and hospitality of the leaders. If you are thinking about it, don't. Just go
- ANNETTE WIDTZ, Bamiyan Traveller 2019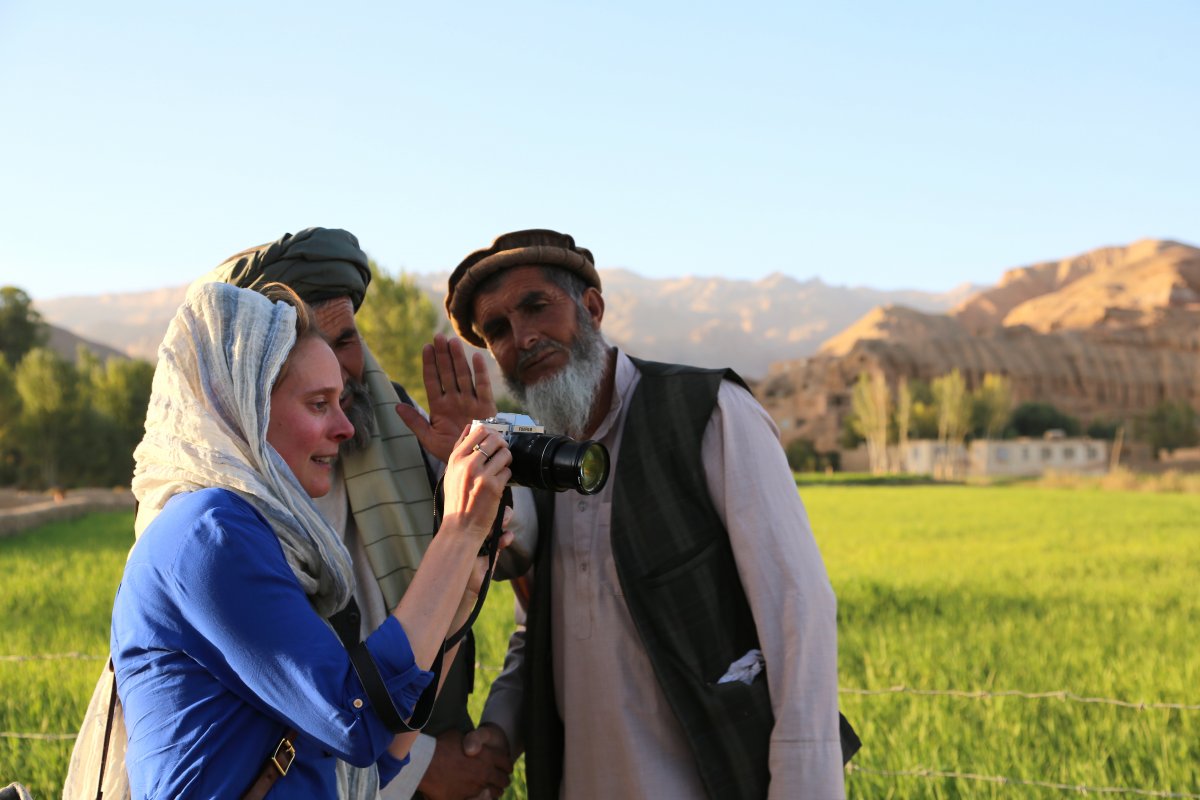 Afghanistan is so much more than violence and war and you really feel that when you spend some time in Bamiyan.
- Ellen Spiessens, Bamiyan Traveller 2019
Our trip to Afghanistan with Ishkar and Andrew Quilty was an amazing adventure. Travelling was only topped by having a master photographer beside us, teaching us how to capture the experience even more vividly!
- Glen Wilde, Bamiyan Traveller 2019
The trip provided an opportunity to experience the other aspects of the country - pursuit of peace, fantastic landscape and kindness of people
- Chenhu Lui, Bamiyan Traveller 2019
Is it safe in Bamiyan?
Visiting Afghanistan is not like other travel destinations and we need to take extra precaution with security. We will be flying directly from Kabul into Bamiyan, a stable and peaceful region, avoiding the parts of Afghanistan which draw international headlines.

Whilst we want participants to have as much freedom as possible, the local guides and ISHKAR have the final say if we need to change in the itinerary for safety reasons. If there is an extra expense incurred due to the change of itinerary then you may be asked to bear part of that cost.

Should you travel to Afghanistan?
The stories we see in the news about Afghanistan tend to have a single-minded focus on the conflict. While this violence is still a daily reality for most Afghans, there are also stories we rarely hear: tales of ancient history, rare wildlife and truly unique scenery.

Tourism is not the answer to all of Afghanistan's problems, but it can help a little. We want to put money directly into local pockets and encourage a sense of pride by treating Afghanistan as a desirable place to visit.
Where can I see the exact itinerary?
We do not publish our itinerary online for security reasons. We will share it with those of you travelling and a select few others. Please note that the exact itinerary is subject to change.
What is included in the cost?
The cost includes return domestic flights (Kabul - Bamiyan), all accommodation, transport/transfers in Afghanistan, guiding, workshops, 3 meals per day, water and entrance fees. It does not include international flights into and out of Afghanistan, visa fees, insurance, excess luggage charges, cameras, alcohol, additional food and drinks, medical expenses, tipping.

When do I need to book?
As early as possible. The trip is for a maximum of 8 people and we expect it will fill up quickly.

A deposit of $650 will secure your place and the final balance needs to be paid 60 days before departure.

How easy is it to get a visa?
Very easy. You will need to apply for a one-month tourist visa. We will advise you on how to do this.
Will we have a guide?
Throughout the trip, you will be accompanied by an extremely competent local guide who speaks fluent English, along with at least one member of the ISHKAR team.

Part of the trip will also be led by Andrew Quilty, whose expertise will guide us to particularly photogenic places and people.
Do I need special travel insurance?
You are required to have full travel insurance specific to the region and ths activities. This will need to include suitable Kidnap, Ransom & Extortion Insurance.
If you are unsure if your existing travel insurance policy will cover you, we can suggest specialist insurance companies.
We use Battleface and highly recommend it. Other options include (but are not limited to): Clements, World Nomads, Petersen or The Universal Insurance Co Ltd.
Will I be able to travel on my own?
We want the trip to be as flexible and dynamic as possible, but we also need to take your security seriously and do not advise ever being alone during the trip.

Can I explore Kabul?
We do not recommend travelling independently on Kabul. However, if this is something you are interested in do let us know so we can advise you on what to do/see.
Do I need any vaccinations?
Please check with your doctor for up to date information on vaccination requirements.

Do I need to be fit?
Relatively fit, but this is not an expedition. The terrain which we cover can at times be a little rough and we will be doing a couple of long (2-4 hour) walks.
What do I need to bring?
We will send you a more detailed handbook before leaving, including recommended reading and a packing list.
Where will we be staying?
For most of this trip we will be staying at our favourite local hotel which is comfortable and centrally located in Bamiyan. There will be an option of a shared and single room. For one night we will be camping in Afghanistan's first national park Band-e Amir with the support of a local guide.
Can I come on my own?
Yes of course. Individuals and small groups are equally welcome. Personally, we also think this could be the perfect trip to experience with a parent, child, or partner!
What is the food like?
All meals are included and we will be eating in some of our favourite restaurants in the area. We are not going to Bamiyan for the food. It can be outstanding, and there is a very original cheese, but can also be very average. There are vegetarian options in most places but please consult us if you have very specific dietary requirements.
When do I need to book my flights?
If you are thinking of applying please email us at explore@ishkar.com and we will send you the flights you need to book to ensure your safe arrival in to Kabul as a group. We advise booking them as soon as you have confirmed your place on the trip.
Can I book even if I don't live in the UK?
Yes of course. You will just need to arrive at Kabul airport in time for our domestic flight and to meet us all at the airport. If traveling to and from the UK you will most likely be travelling alongside one of the ISHKAR team.
Do I need to have a camera?
No. Anyone is welcome to join and there is plenty to appreciate without a camera. However, we will not be providing cameras so if you would like to take part in Andrew's workshops you must have your own camera. Even a phone can take pretty amazing pictures in this photogenic region.